Pilot by SingHealth Community Nurses has allowed more than 200 seniors to measure their blood pressure (BP) independently
A study of 53 seniors found that all of them achieved a three per cent reduction in their systolic BP on average, after one month of self-monitoring
---
60 per cent of the 3,800 seniors currently seen at SingHealth Community Nurse Posts (CNPs) have high blood pressure, or hypertension. As most of these seniors do not have a BP monitor at home, they tend to rely on Community Nurses to take their BP readings during consultations, and interpret the readings for them.
Recognising that seniors can be empowered to measure and manage their BP independently, SingHealth Community Nurses have introduced vital signs monitoring (VSM) kiosks at 20 out of the 71 CNPs located mainly at Senior Activity Centres (SACs). Designed and developed by Integrated Health Information Systems (IHiS), each kiosk is equipped with a blood pressure monitor connected to an iPad running upgraded Health Discovery (HD+) software.

Seniors who require frequent BP monitoring can now self-measure their BP at the kiosks. Programmed messages in four languages would inform them if their BP is low, normal, or high, and advise the next steps to take. The readings are also shown on the HD+ dashboard used by the Community Nurses concurrently, flagging unusual readings for them to follow up on. This data also flows automatically into Sunrise Clinical Manager, an electronic medical record system, giving SingHealth care teams a holistic view of seniors who are SingHealth patients, their BP trends and medical histories.

"High blood pressure, if left untreated, can lead to severe health complications such as stroke, heart failure, and other organ damage. Despite its risks, there are often no symptoms of high blood pressure. The kiosks, located conveniently near seniors' homes, enable seniors with hypertension to monitor their BP frequently, and prompts them to seek appropriate interventions if their BP is unusually high or low. The Community Nurses will review their readings backend and then advise the seniors to take their medications regularly or arrange for early medical review by the senior's doctor." said Ms Stephanie Teo, Director, Community Nursing, SingHealth Office of Regional Health.

The pilot, which has recruited 207 seniors, aims to enable seniors to take greater ownership of their health condition, and free up Community Nurses' time to focus on seniors which require more care and support. A study of 53 seniors enrolled in the pilot found that all of them achieved a three per cent or 4 mm Hg reduction in their systolic BP1 on average, after one month of self-monitoring their BP on a weekly basis.

---

1For every 5mmHg reduction in systolic blood pressure, the risk of developing major cardiovascular disease fell by around 10 per cent. Stroke and heart failure risk dropped by 13 per cent. Source: Pharmacological blood pressure lowering for primary and secondary prevention of cardiovascular disease across different levels of blood pressure: an individual participant-level data meta-analysis. The Lancet. 2021 May 1.


About Health Discovery
Health Discovery is a purpose-built integrated system that empowers patients to measure and submit their own vital signs readings, which are then sent to a dashboard that enables clinicians to monitor patients' information in real time and quickly identify those who may need immediate attention. An upgraded Health Discovery+ version which enables seniors to answer simple questionnaires and access pre-programmed advice based on their BP readings in real time now runs on VSM kiosks. In addition, seniors can view their historical records. SAC staff are also trained to guide seniors to use the app and assist with care escalation.

IHiS worked closely with the SingHealth team to simplify the patient experience, particularly for less tech-savvy seniors. Enhancements to the workflow design include minimising the number of steps for seniors to submit their BP readings, incorporating larger font sizes on the kiosk, and creating simple visual guides for seniors to follow. The integrated kiosk and software solution were recognised with a Second Prize award in the Quality Improvement category at the SingHealth Nursing Conference 2021.

"Health Discovery was originally developed by IHiS to support vital signs monitoring at Community Care Facilities at the height of the COVID-19 pandemic. Our partnership with SingHealth has allowed us to bring the enhanced HD+ into the community, empowering seniors to monitor their hypertension. To cater to less tech savvy seniors, our teams worked closely with SingHealth staff, Community Nurses, community partners and seniors to enhance the user experience and tweak functionalities based on their feedback. For example, kiosks were customised to be wheelchair-friendly and onscreen text was made larger and clearer to read. Seniors also need to follow only seven simple steps to measure and submit their BP reading," shared Mr Darren Toh, Director, Digital and Integration Services, IHiS.


Annex
Screenshots of programmed messages according to senior's BP levels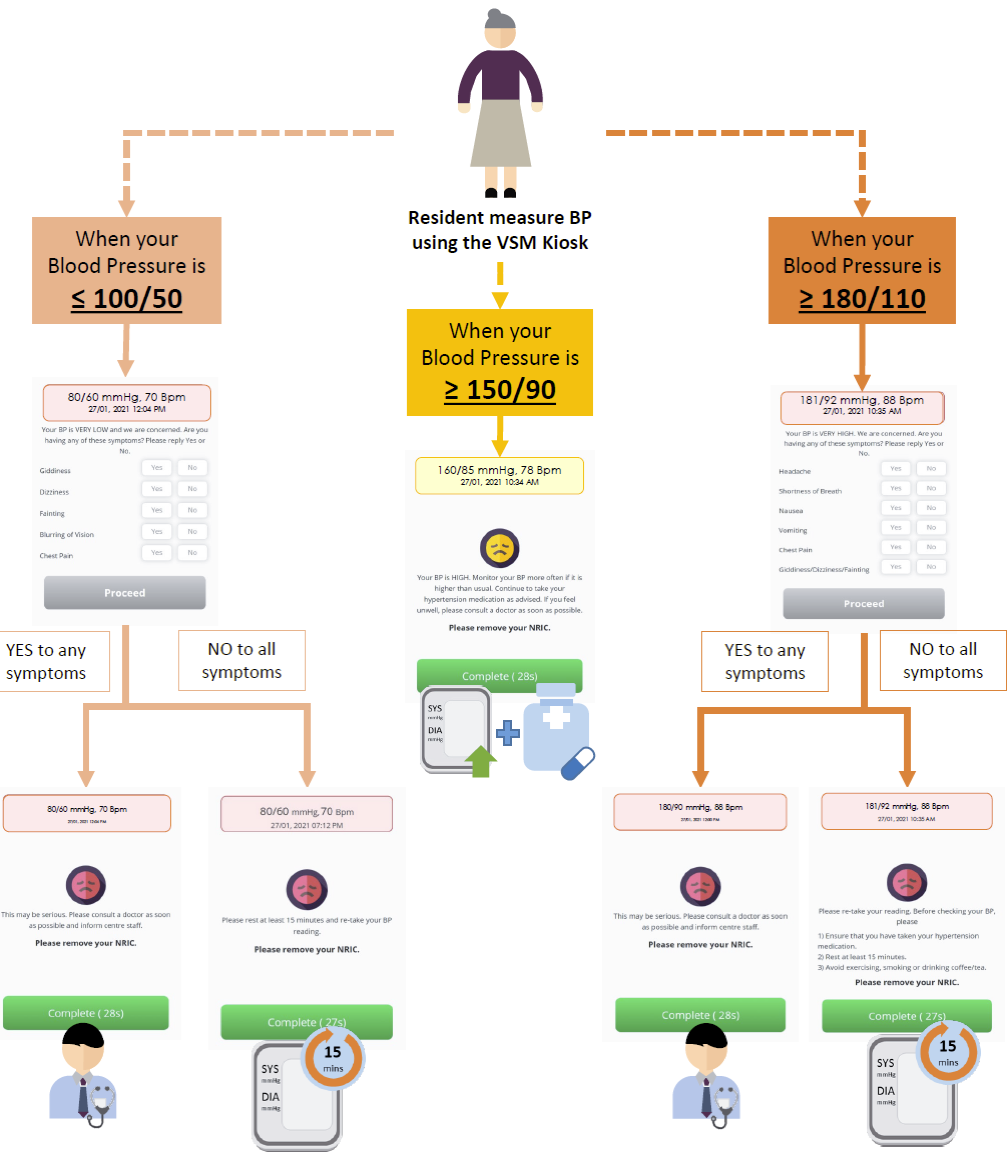 ---
About SingHealth Regional Health System

The SingHealth Regional Health System (RHS) recognises that our population can be empowered to keep well, get well and age well in their communities and homes.

To achieve this, we collaborate with like-minded agencies across the health and social care sectors to identify population health needs, promote behaviour changes and develop sustainable programmes to improve quality of life.

As an academic RHS, we also leverage health services research to understand healthcare utilisation patterns and to facilitate appropriate interventions across the care continuum.

For more information, please visit www.singhealth.com.sg/rhs.
About Integrated Health Information Systems (IHiS)

IHiS is a multi-award-winning healthcare IT leader that digitises, connects, and analyses Singapore's health ecosystem. Its ultimate aim is to improve the Singapore population's health and health administration by integrating intelligent, highly resilient and cost effective technologies with process and people.

IHiS played a key role in helping all major public healthcare institutions become amongst the first in Asia Pacific to achieve HIMSS EMRAM Stage 6 and 7, international benchmarks for advanced technology used in patient care.

Transforming healthcare through smart technology, IHiS has garnered more than 150 awards for its innovations. It supports more than 50,000 healthcare users in Singapore's health ecosystem through the application of clinical informatics, computer science, data science, mechatronics, standards based IT that enables information exchange and cross boundary workflows, analysis, statistical and machine learning techniques to discover insights.