Visitors to the hospital wards at SingHealth Tower and Outram Community Hospital (OCH) can now look forward to a smoother registration experience. Instead of having to register onsite and scan their National Registration Identity Card (NRIC) or Digital IC in the Singpass app at security gantries, they can register online ahead of their visit. At the gantries, a new automatic facial recognition solution will admit registered visitors directly. This is the first time such a technology is being applied in a healthcare setting in Singapore.

This convenient and contactless process is made possible with the new Facial Recognition Automated Visitor Management System (FRAVMS) launched by SingHealth and the Integrated Health Information Systems (IHiS). The system is being piloted at SingHealth Tower and OCH, with plans for it to be eventually rolled out to the rest of SingHealth's institutions.

The six-month FRAVMS pilot was launched on 5 September 2022 and is expected to benefit more than 300 visitors daily.
How FRAVMS works
Using their mobile phones or personal devices, visitors can register their visit on SingHealth's website beforehand. During the registration, the visitor inputs the key information required and uploads a selfie photograph, which is then sent securely to the FRAVMS at SingHealth and retained for the duration of the patient's admission. On the day of the visit, visitors can confirm their identities by having their faces scanned by the camera at the gantry, which also detects their body temperatures to ascertain if they are physically well to enter the premises. They are automatically granted entry to the wards if their facial data and identities match and if they are within the healthy body temperature range. [See Annex for more details on how FRAVMS works.]

The FRAVMS facilitates a smoother and more efficient visitor registration process. Individuals save time from not having to queue to register at the hospital's registration counters or e-kiosks. Additionally, the entire process is contactless, eliminating the need for individuals to interact with counter staff or use touchscreens at the e-kiosks. This is ideal for infection control and mitigates viral transmission, especially during a pandemic.

"We are glad to offer visitors to our wards the convenience that this new system brings, so that they can have a more pleasant visiting experience in the hospital," said Mr Tan Jack Thian, Group Chief Operating Officer, SingHealth. "Operationally, we can also expect a smoother flow of visitors during visitation hours since NRIC-scanning will not be required at the gantries. Meanwhile, we continue to offer the usual methods of registration at the counters or e-kiosks for visitors who may need more time to familiarise themselves with the online registration process, or for those who prefer registering their visit manually."

For security, the cameras at the hospital's gantries are equipped with depth sensor capabilities to ensure that the face being scanned is of a person who is physically present and not a mere photograph or video recording. Scans of photographs or video recordings will not be granted entry. The cameras are also able to identify visitors even when they wear a face mask.

"The integration with Singpass is a key component of this pilot, enabling visitors to quickly and securely register their visit," said Mr Ong Leong Seng, Deputy Chief Executive, IHiS. "Despite the addition of enhanced security features, we have reduced the time taken to register to just five simple contactless steps, saving visitors about 10 minutes per registration."
Annex
Steps to register visitors using the Facial Recognition Automated Visitor Management System (FRAVMS)

Step 1: Visitor enters the Outram Community Hospital (OCH)'s visitor registration page on his/her smartphone and selects "Face Verification"*.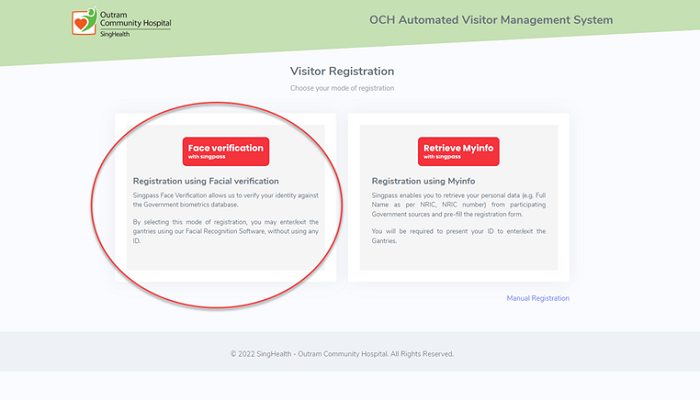 * If the visitor selects the "Retrieve Myinfo" option, he/ she can still register as a visitor online using the pre-fill feature in the registration form, but will need to scan his/her NRIC or Digital IC in the Singpass app at the gantry. The FRAMVS will not apply for this option.
Step 2: Visitor fills up visitor and patient details in the next few pages.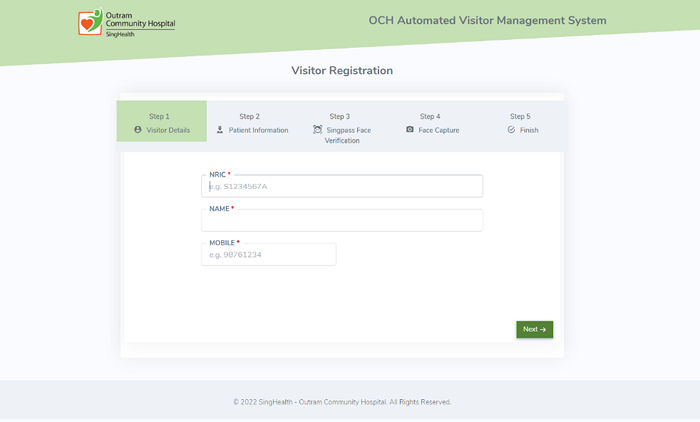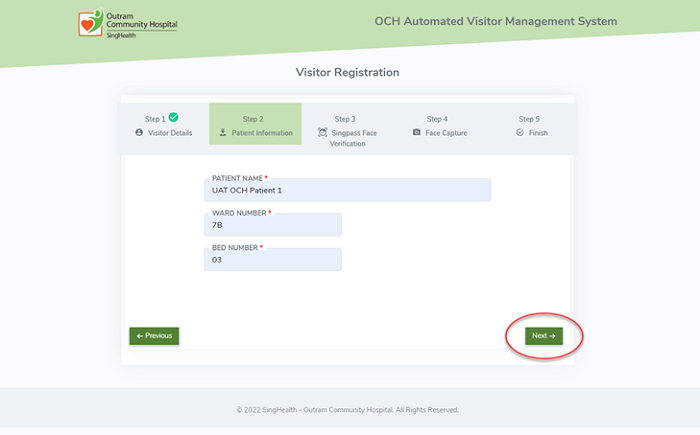 Step 3: Visitor verifies his/her identity with a face scan enabled by Singpass Face Verification. The face scan is compared against the government's biometrics database.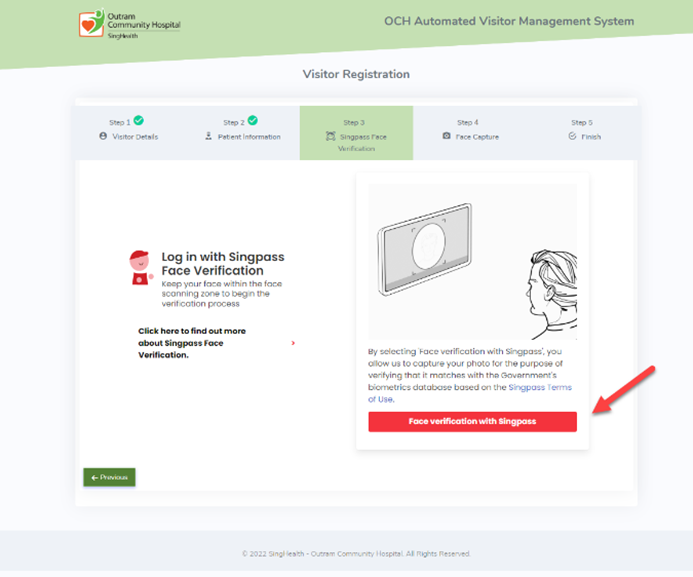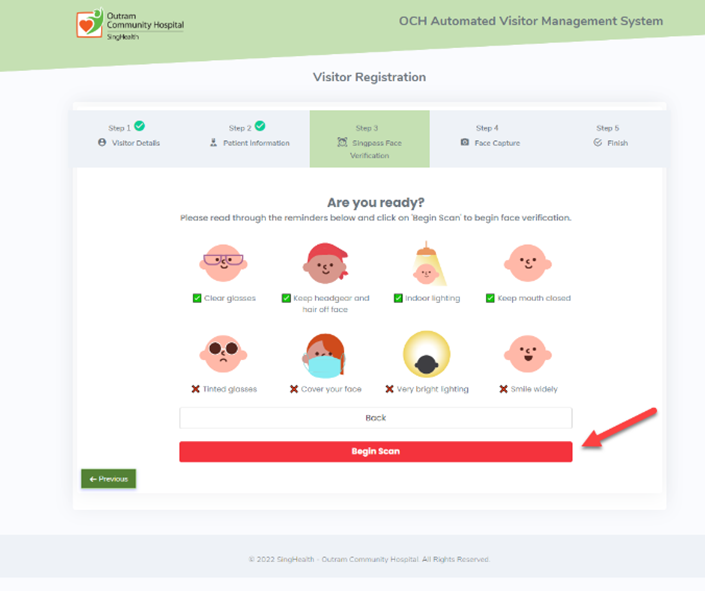 Step 4: After verification, the visitor takes a photograph that is stored in SingHealth's facial recognition software for the duration of the patient's admission.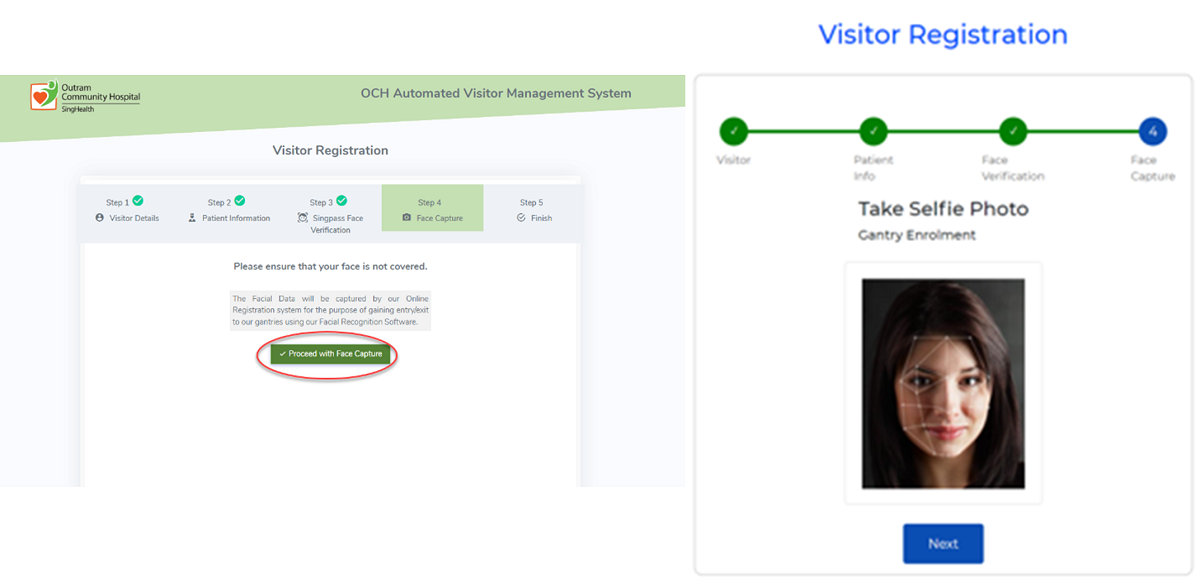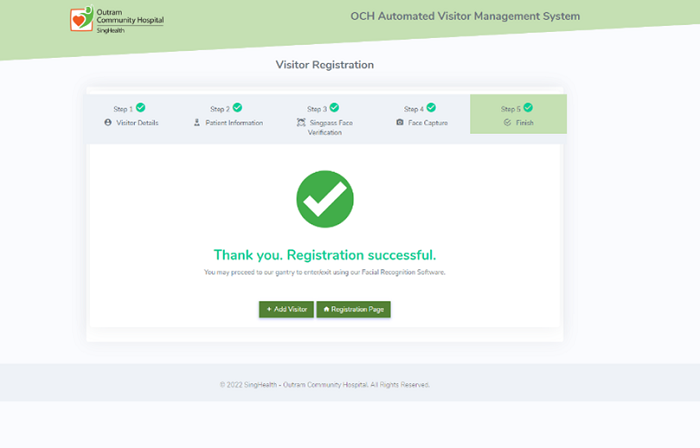 Step 5: The visitor enters the Outram Community Hospital wards by doing a face scan at the gantry.
---
About Singapore Health Services (SingHealth)
SingHealth, Singapore's largest public healthcare cluster, is committed to providing affordable, accessible and quality healthcare to patients. With a network of acute hospitals, national specialty centres, polyclinics and community hospitals offering over 40 clinical specialties, it delivers comprehensive, multi-disciplinary and integrated care. Beyond hospital walls, SingHealth partners community care providers to enable the population to keep well, get well and live well. As part of the SingHealth Duke-NUS Academic Medical Centre, SingHealth also focuses on advancing education and research to continuously improve care outcomes for patients. For more information, please visit: www.singhealth.com.sg
About Integrated Health Information Systems (IHiS)

IHiS is a leading healthcare technology firm that integrates resilient, intelligent, secure and cost effective technology with people and processes to make healthcare more efficient, more inclusive, more accessible, and safer for patients.

IHiS supports more than 70,000 healthcare users in Singapore's public healthcare sector to bring about healthcare transformation through the use of technology. We harness multiple healthtech domains – Health AI, telemedicine, electronic health records, digital health apps, and more, to push the boundaries for transformative health to improve population health, make healthcare more sustainable, and enhance the patient experience.