For most of us, mobile phones and laptops are an extension of ourselves – whether it's for work, leisure or to keep connected with our family and friends.

Despite protective technologies and systems in place, people remain the weakest link as many fall prey to increasingly sophisticated cybercrimes.

Read on as our IHiS cybersecurity experts share how you can tighten online security, and what we do to inculcate a cyber-resilient culture within the organisation.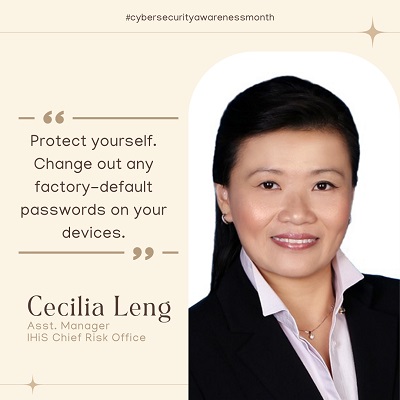 Cecilia Leng
IHiS Assistant Manager, Chief Risk Office

"Personal devices often lack critical cybersecurity protection and people have been connecting their own devices to their organisations' networks. This could serve as entry points for attacks through unpatched vulnerabilities and may result in devastating consequences if compromised. Therefore, do ensure that you secure your accounts with strong passwords and patch your devices regularly, whenever you receive the notification!"
See Chay Meng
IHiS Assistant Director, AIC, CISO Office

"Multiple layers of defences we've put in place might give people a false sense of security. The human element is always the biggest risk, which is why AIC CISO Office has a strong focus on our awareness programme – this is necessary to strengthen the last line of defence – our colleagues.

One tip for everyone is to remember PTA - Pause, Think before you Act before you click on any links, attachments or provide personal information!"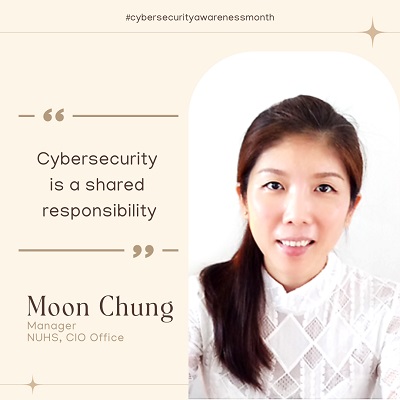 Moon Chung
IHiS Manager, NUHS CIO Office

"Keeping cybersecurity in mind is a key part in protecting ourselves and the organisation from becoming victims of cybercrime. With reinforcement learning, we can together build a culture of cybersecurity in both workplace and personal lives of our peers. Always be vigilant and stay prepared in case of a cyber attack."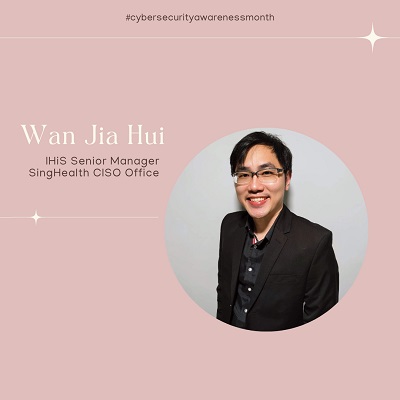 Wan Jia Hui
IHiS Senior Manager, SingHealth CIO/CISO

"Phishing emails are getting more sophisticated – gone are the days where they are peppered with typos and grammatical errors. We need to learn and relearn scammers' new "tricks" and slow down to be more cautious. While this might seem counterintuitive in our fast-paced environment, it is necessary in order to keep our work and loved ones safe from malicious actors."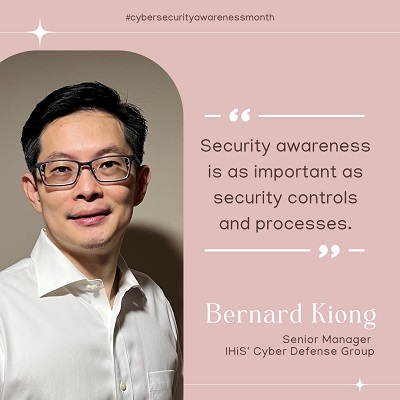 Bernard Kiong
IHiS Senior Manager, Cyber Defence Group

"Based on sound polices, we establish foundational security baselines upon which we can build our cybersecurity defences. With new emerging threats that target medical devices and operating technology, cybersecurity is important to ensure that the public healthcare can continue to operate safely and confidently, without compromising on patient care."
Are you interested to join us as a defender of Singapore's public healthcare systems? Head over to our careers portal at to find out how!